We were approached by Alex Kelerman, who was launching his start up agency Kelermedia and wanted my help creating a sophisticated and stylish brand that would help to position him and Kelermedia as the go-to agency for impactful social media strategy.
Alex was building a strong reputation for his services and was inundated with enquiries from solopreneurs and smaller family run operations. He was struggling to attract larger companies and was hitting a fairly low time-based glass ceiling.
Kelermedia and Alex are young and in the eyes of some potential prospects, this lack of industry presence and experience, often counted against him, especially in the eyes of the larger, more established companies.
The challenge was to make sure that they would be taken seriously despite being a fairly young company. To give the impression of stability and professionalism, yet still appear cutting edge and dynamic.
Our findings
We conducted extensive research and Q&A diagnosis on Kelermedia, their rivals and their dream clients. Our findings led us to believe that Kelermedia was ahead of its rivals in both their approach and the impact of their social media strategy. The issue was that the people of influence within the target companies were older (38-45) than his current client base and were more comfortable dealing with what they perceived as more established agencies, even if their methods were outdated.
INSIGHT
Many of these larger clients were busy and weren't always that active on social media, so weren't aware of Alex's work. With this in mind, we focussed on delivering a targeted strategy that was very visual. Something that would appeal to the higher end of the market and allows Alex and Kelermedia to be taken seriously on the first impression.
<!- TIMELINE ITEM -!>
Discovery session
STEP ONE
We carried out an indepth workshop that allowed us to understand Kelermedia's goals and the needs of their customers.
<!- END OF TIMELINE ITEM -!> <!- TIMELINE ITEM -!>
Research & Review
STEP TWO
We conducted extensive research around Kelermedia's industry, rivals and potential targets.
<!- END OF TIMELINE ITEM -!> <!- TIMELINE ITEM -!>
Develop a Strategy
STEP THREE
Based on the findings of our Discovery Session and Research we put together a highly effective strategy to help reposition their brand.
<!- END OF TIMELINE ITEM -!> <!- TIMELINE ITEM -!>
Execute the plan
STEP FOUR
We worked with Kelermedia to bring the plan into action. We were there to help provide support and guidance as we refined and reviewed our creative solutions.
<!- END OF TIMELINE ITEM -!> <!- TIMELINE ITEM -!>
Launch & Support
STEP FIVE
Once the final solutions had been signed off, we helped to bring everything to life. Since the launch we have been on hand to provide advice, support and guidance to make sure their strategy is being executed with conviction and certainty.
<!- END OF TIMELINE ITEM -!>
It was essential to craft something that the business could grow into and wouldn't need continually updating. We set about creating a stylish, confident and sophisticated brand identity that set Kelermedia apart. It captured the attention of the target clients and started many discussions that led to new business.
Here's how we did it.
By choosing a set of bold but stylish colours, we were able to convey the personality of Kelermedia and make sure that it stood out from it's rivals.
Alongside strong colour, there was also room for the use of gold foils and thick graphite card, both perfect for conveying a sense of quality and luxury.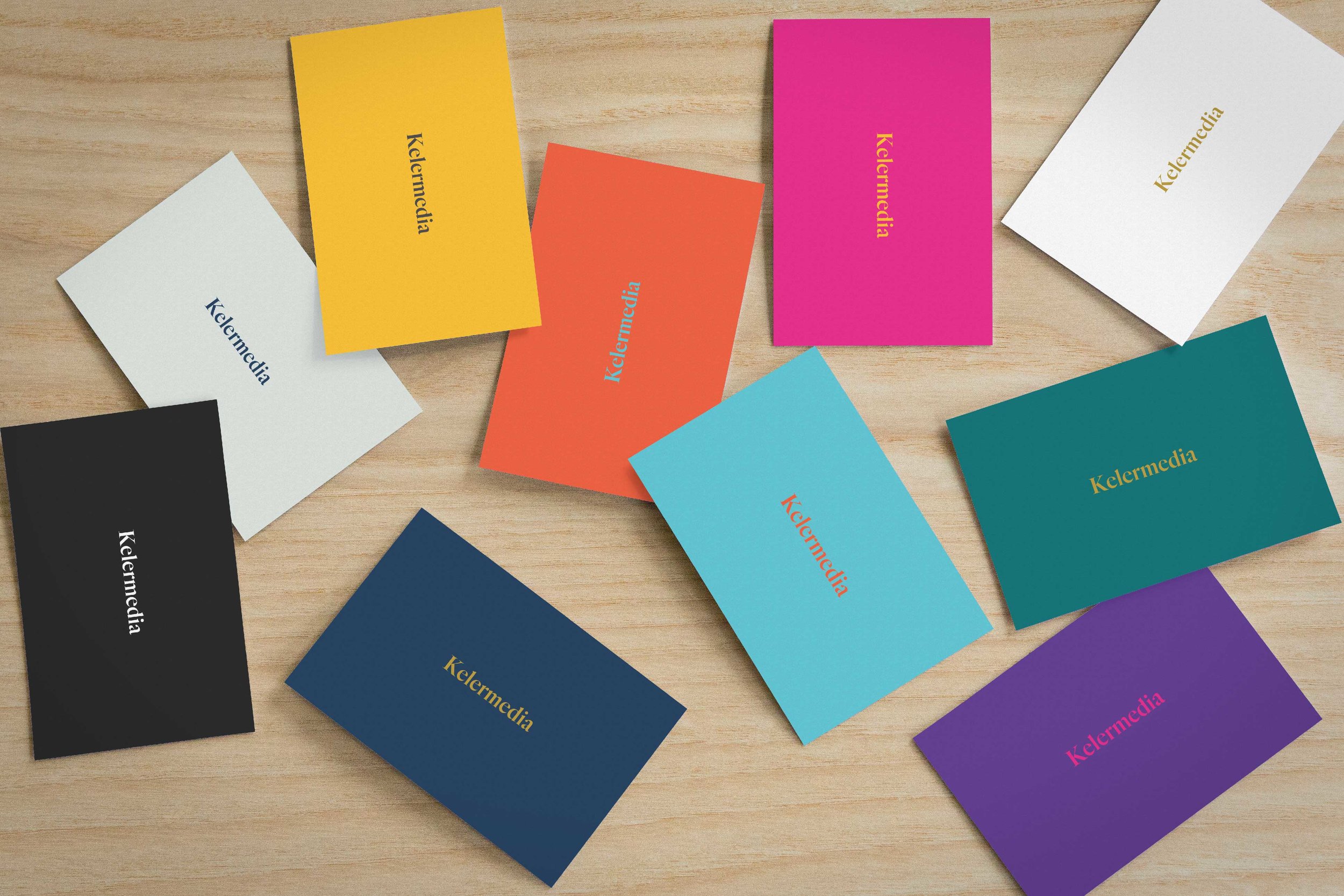 "Since we rebranded, within weeks we landed a significant new medical client worth a great deal to the agency. That's an instant return on our investment in Thad's expertise which we are thrilled by."
— Alex Kelerman
We are a results kind of agency. If you know just how valuable branding can be for your business and want outstanding results, we'd love to talk with you.