Conor McGregor Case Study
As part of the FaceOff partnership, we were asked to create a branding solution for their brand ambassador Conor McGregor.
With each victory, Conor's profile grows and as such a showman he draws such huge amounts of attention. But the life of a fighter is short lived and their time in the spotlight can be fleeting. It was crucial that Conor made the most of his popularity to successfully transition away from the octagon and into other industries such as television and film and be able to endorse and launch his own lucrative product lines.
We had to build him a credible and timeless brand identity that would honour his UFC achievements, but also give him the flexibility to move into other industries and have his credibility accepted.
We looked at athletes in UFC, boxing and beyond who have been successful at transitioning from their sport into other lucrative careers such as - Brendan Schaub, The Rock, George Foreman, Charles Barkley, Vinnie Jones, David Beckham and Michael Jordan.
INSIGHT
Conor's character and authenticity is what makes him so popular. His attitude, confidence and flamboyance is so infectious and easy to spot. These qualities had to be present in the final solution in order resonate with his fanbase, yet the final identity had to be unmistakably Conor.
<!- TIMELINE ITEM -!>
Research & Review
STEP ONE
We went through an indepth period of research and analysis going back not only his fighting career, but back into the history of the UFC and Boxing.
<!- END OF TIMELINE ITEM -!> <!- TIMELINE ITEM -!>
Brainstorm
STEP TWO
Once we had gathered the information about martial arts and boxing, we delved deeper into his family tree looking for insight and inspiration.
<!- END OF TIMELINE ITEM -!> <!- TIMELINE ITEM -!>
Refine the Creative
STEP THREE
As they say, pressure produces diamonds. We pushed and honed our best solutions, fully exploring all avenues before deciding on the final solution.
<!- END OF TIMELINE ITEM -!> <!- TIMELINE ITEM -!>
Bring it all to life
STEP FOUR
The final stage was to gather everything together to present for final approval by Conor and his management.
<!- END OF TIMELINE ITEM -!>
We were able to create an identity that was unique to Conor, represents him and everything his fans love, yet still provide credibility and high brand value perception to those who were unfamiliar with his fighting background.
Here's how we did it.
The Logo
Although every Brand is more than a logo, the logo becomes a visual distillation of the brand. Done well it is timeless, distinctive and inspirational. For this project, we wanted to craft something that was precisely that. Exclusive and unique to Conor and only Conor. When people see it, they immediately recognise it and think if Conor and are inspired and reminded of a quality that makes him so extraordinary.
As we went back through his fights, we could see a recurring theme. There are many distinctive and impressive things about Conor, one of the most being his ferocious left-handed punch.
This punch has delivered multiple knock out blows during his career.
One of his most famous punches came after 13 seconds when he knocked out Jose Aldo. Here is the frame by frame analysis show the trajectory of Conor's fist. This powerful left hook is far more than that, but by slowing things down and tracking the movement, we were able to refine it down to a smooth and sleek arc of devastation.
This was to form the basis of the design.
The punching motion was then adjusted and complimented by a second arc that builds the shape into a more recognisable 'C' for Conor. The lower arc represents speed and movement, something that Conor is also very much known for, and the distinctive upper arc represents a powerful left-handed punch.
For further visual clarity the 'C' is given a subtle outline that brings the two arcs together and the main part of the logo is highlighted for prominence.
This builds further into the full first name, and the highlighted colour not only catches the eye but also provides recognition of his Irish heritage. As with any personality, the goal is to be referred to and known by their first name only. That was our recommendation, to focus on 'Conor' to cement that name in the minds of the public.
Elvis, Madonna, Adele, Bono, Oprah………Conor.
When you hear Conor, you only think of Conor McGregor.
the McGregor Family Crest
Conor's love for his country and warrior spirit has captured the hearts and minds of his Irish fans. We wanted to create a contemporary coat of arms/seal to celebrate this. Something that honours the past acknowledges the present and looks forward and future.
Final Crest Design
Noticeable symbols taken from the original McGregor coat of arms include the sword and oak leaf. More contemporary additions include an Octagon and Conor's Grandfather's cap.
As expected, Conor has begun to eclipse the UFC, and as his profile soars, I wanted to aid this transition away from fighting into other areas.
The post-fight career of any fighter is often complicated so to future-proof Conor we wanted to create an identity that would capitalise on his fame and notoriety and allow him to break into other industries through successful collaborations. These would be under the guise of the 'Notorious' brand and would involve Conor releasing limited edition Notorious versions of cars, clothing and alcohol.
The Notorious brand had to embody a fearless flamboyance that empowers and inspires in equal measure.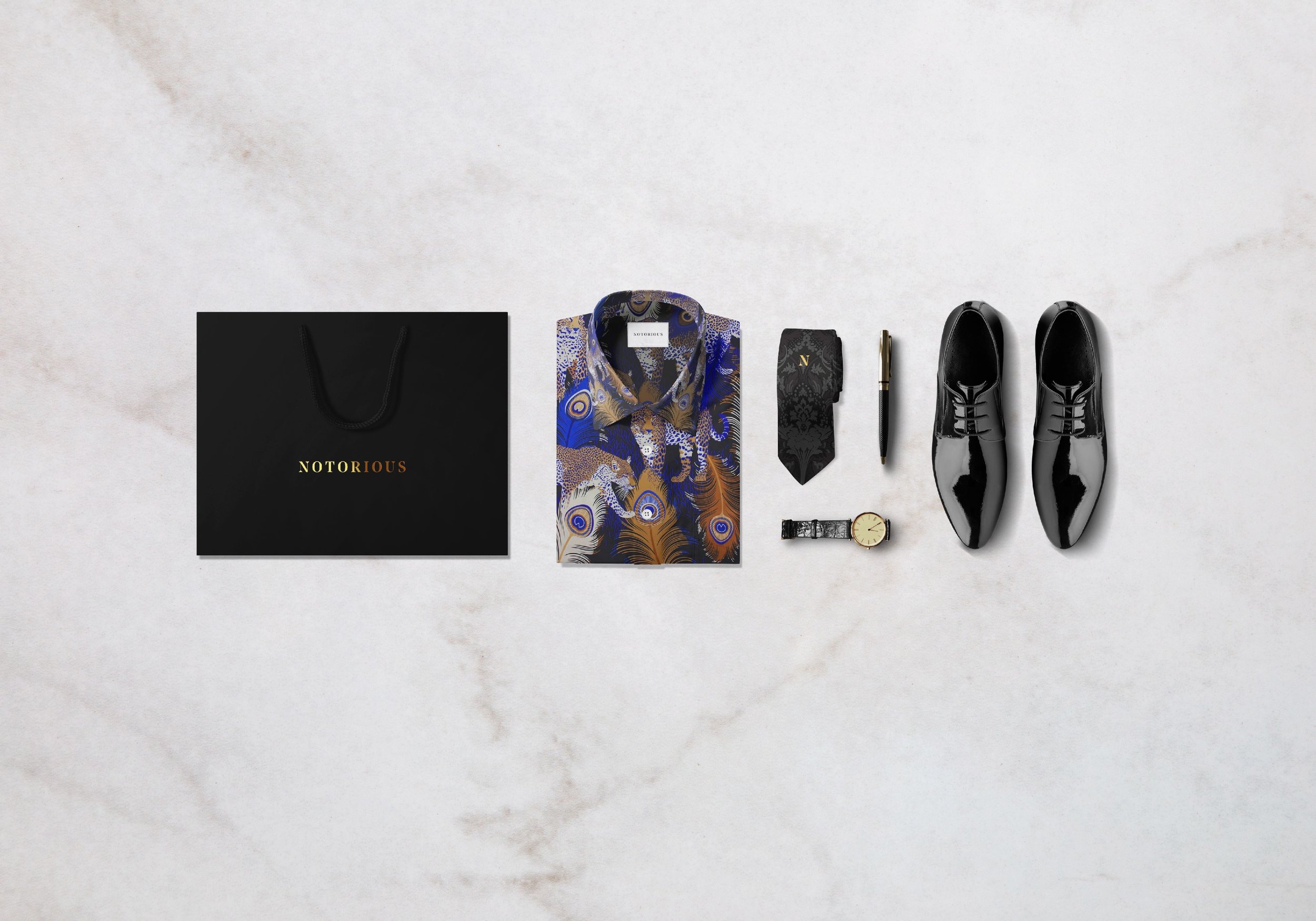 We are a results kind of agency. If you know just how valuable branding can be for your business and want outstanding results, we'd love to talk with you.